Pink: Water Thieves Rain Thieves
When the topic of 80s anime / manga comes up, one name tends to come up more than others in terms of a singular figure who dominated these during that decade: Akira Toriyama. Thanks to Dr. Slump and Dragon Ball, he was catapulted into becoming a legend of the field with these works acquiring huge followings. This snowballed further during the latter half of the decade when he came in to handle art direction on Enix's Dragon Quest video games. While these projects took up the lion's share of his time, Toriyama occasionally delved into small side projects to help cleanse his pallet. One of these projects was a short film called: Pink: Water Thieves Rain Thieves, a cute, action packed story of a young female water bandit in a parched, rain-less world.
Released in the summer of 1990, this is a 30 minute film that takes place in a desert world that hasn't seen rain in three years. However, a large corporation has come in during that time to sell people water at grossly inflated prices. With no alternative, the people of a small town pay through the nose for the life giving liquid. Amidst all this, Pink is a young girl who, with the help of her robot friend White, and a lizard boy named Black, steal from the large water transport trucks the corporation uses. They keep the water for themselves mostly, watering a tree by their house and having plenty of baths. Things quickly progress to Pink and her friends breaking into the corporation headquarters because they want to play on the water slide and swimming pool there. From there, a number of action sequences commence as Pink must escape from security and highly trained bodyguards.
For a show that is only around half an hour, it covers quite a lot of ground in an enjoyable way, providing just enough information to keep the story going without feeling like their are gaps in the plot. More than anything, Pink: Water Thieves Rain Thieves is a vehicle for action scenes peppered with cutesy moments as Pink plays with her friends. It's not at all a serious story, but does what it sets out to, providing a brief bit of entertainment.
The art style is exactly what one would expect from Akira Toriyama, especially in terms of character design. Pink and her friends could easily be transported to Dr. Slump and fit right in. Meanwhile, Sheriff Cobalt Blue looks like Gohan's long lost brother. Some of the panning shots of different locales are also quite nice, as they have a water colored style to them that is very soft and easy on the eyes.
Given that this is a fun little side project for Toriyama, he was able to bring in a number of well known figures in the anime industry to help him out. The movie was directed by Toyoo Ashida who also directed Hokuto no Ken and Vampire Hunter D, as well as being heavily involved in Dr. Slump years earlier. There were also a number of established voice actors involved including Keiichi Nanba (Gurio in Sailor Moon, Kujiro in Fuma no Kojiro), Hidekatsu Shibata (King Bradley from Full Metal Alchemist), and Daisuke Gouri who played several roles in various Dragon Ball series.
Basically, Pink: Water Thieves Rain Thieves is a fun little film for fans of Toriyama's work. It's not terribly well known, but is an enjoyable, brief adventure regardless of whether one is a fan of his work. It's carefree with some nice action scenes worth checking out.
- IroIro
July 31, 2020

More Anime Set in a Desert:
- Dragon's Heaven Anime Review
- The Weathering Continent Anime Review
Directed by: Toyoo Ashida
Studio: Toei
Released: 1990
Episodes: 1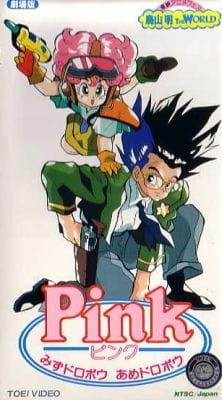 VHS Cover Art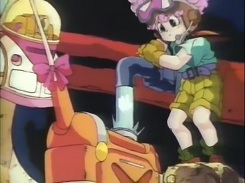 Pink stealing some water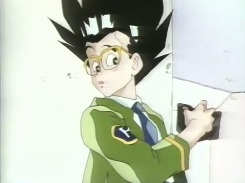 Sheriff Cobalt Blue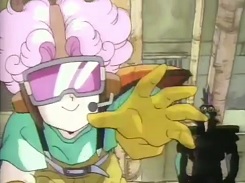 Pink fighting a lizardman